The Canberra Celica Group (CCG) is an automotive club based in Canberra, Australia with a very social focus. The club aims to organise as many Toyota owners as possible to go on club outings (the pub, the track, BBQs etc.) and to build a collective network of parts, knowledge, good mates and Toyota nuts of all sorts.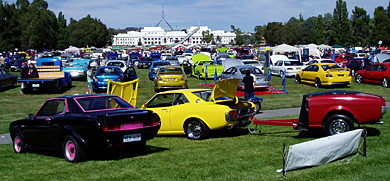 The CCG has over 200 members and is run by a core group of dedicated enthusiasts. Members come from many walks of life and own all sorts of Toyotas. The CCG happily boasts members with Crowns, Cressidas, MR2s, Corollas, Coronas, Hiluxes, Soarers and the Supras.
The club has an active events calendar including cruises, dyno days, BBQs, swap meets, show 'n' shines, track days, go-karting and of course the Toyota Nationals which is held in Dubbo, NSW over the Easter weekend every year.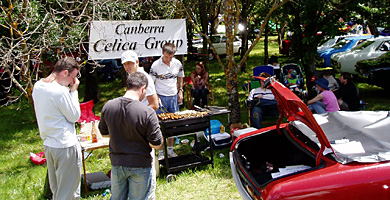 In addition, the CCG engages in not so automotive oriented interests such as paintball, golf, fishing weekends, trips to the snow and the all famous Beer O'Clocks. This is a meet and greet event where members come for a social chat fest over a quiet drink or two. No big drinking here tho, the CCG members value their licences and lives.
The CCG also enjoys spending time with fellow Toyota nuts, such as the ToyMods Car Club, Canberra MR2 Owners Club and the Supra Clubs. The club has been involved in lots of cross-club outings and will continue to support and organise these great events.
More information: Read the Club History